*Advert because of mentioning of the brands*
Hard to believe how fast this year's gone by, it's already December again and since last year I'm preparing my old Advent Calender for Benjamin. While it was quite easy to find 24 gifts last year, I was struggling this year – especially due to the fact that Benjamin got 6 PJ Masks figures from the in-laws already. Thanks for nothing, that were 6 gifts I had to rethink..
My toddler has a sweet tooth but is very picky when it comes to eating in general, that's why I try to use only a few sweets for his calender.
If you're looking for inspirations for your Advent Calender next year, this is what I put inside: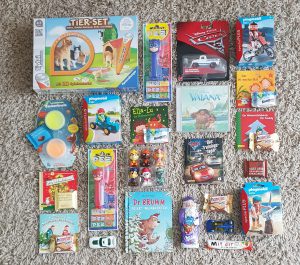 The TipToi Playset you see in the upper left corner is the gift for St. Nicholas Day (it's December 6th for those of you not celebrating it). I also added a few Pixi books, 6 Paw Patrol figures, some Playmobil figures, a few cars, a Vaiana (it's Moana for you) radio play, some play dough and a few sweets.
I'm curious to find out if he likes what he gets. Today he was happy with the last Cars 3 Pixi although he seems to be coming down with something as he's terribly whiny. Oh what fun.. not.
Now I'd love to know if you're doing an Advent Calender or simply buy one?
If you're creating one yourself, feel free to share ideas on what to put into it since I need to do two of those…
Have a good weekend and enjoy the Holiday Season!